SoVoSó music available on these digital platforms: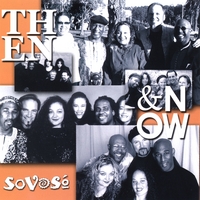 Then & Now (2005)
One Love
Wanting Memories
One Planet
With You
People Get Ready
Hurt So Bad
Tu Para Mi
Precious
Be of Love
For the Forest
Life & Love
Thank You
Dirt
SoVoSó's Independent Album release of 2005 is a retrospective album capturing the band's journey since forming in 1994 to where they musically live now . The 13 track album features 7 new recordings of fan requests and updated arrangements of songs including Tu Para Mi and Be of Love. Interwoven into this new material are 6 remixed and remastered songs – some of which that were recorded on the band's first two albums and a version of Thank You that was only released on the band's German released CD Precious.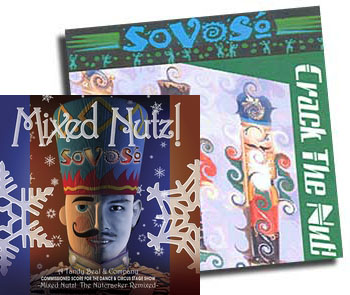 Crack the Nut! (2003)
a.k.a. Mixed Nutz! (2004)
Red Pipes
Skaters & Jugglers
Spanish Dance
Mother Gigogne
Russian Dance
Arabian Dance
Waltz of the Flowers
Sugar Plum Fairy
Finale Waltz
In November, 2003 SoVoSó sang the premiere performance of Tandy Beal's "Mixed Nutz!" – a new twist on the classic Holiday Show, which ended with a sold-out Thanksgiving weekend of shows and rave reviews. Demand was so high for this newly arranged music, that SoVoSó went into the studio to record nine of their favorites to put on a tantalizing album that captures the essence of the Classic Tchaikovsky Nutcracker Suite but with a SoVoSó-Style "twist on this well known score.
SoVoSó members, all composers and lead vocalists in their own right, chose what songs they would like to arrange from the Nutrcracker Suite. The CD opens with a smooth, African-chant infused Dance of the Reed Pipes and moves to a haunting rock version of the Arabian Dance, House-Funk Russian Dance, a spicy latin jazz Waltz of the Flowers, a driving alternative Dance of the Sugar Plum Fairy, and amazing a cappella versions of the Mother Gigogne (Ginger), Spanish Dance, Skater & Jugglers (named for the circus acts that perform to this music in Mixed Nutz!), and Finale Waltz; all in true and innovative SoVoSó style.
We invite you to take a piece of this milestone release home with you to enlighten and warm up your holiday season and all throughout the year.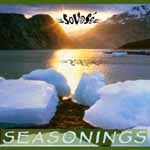 Seasonings (2002)
Holiday Season
Christmas In Questa
Oh Holy Night
Someday
Little Drummer Boy
'Tis Winter
Emmanuel
The group's latest release is their first-ever and much awaited Holiday
album. SoVoSó has mixed together a wonderful recipe of songs including
several holiday favorites done in true "SoVoSó-style" such as O Holy Night
and Little Drummer Boy, as well as original songs that touch the heart and
reflect on all shades of the winter season. This album also introduces new
member Bryan Dyer. The opening track's chorus truly captures the group's
message: "What do you want your Holiday Season to be about this year?"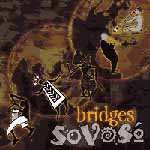 Bridges (2000)
Boom Baby!
For I Am The Moon
Charity
New Groove
Build A Bridge
Big Family
Listen To The Rain
Say
We Will Rise
Precious
Serengeti rhythms, New Orleans inspired funk, Jamaican reggae dubs…
SoVoSó's 2000 album release spans the musical globe,introducing members
Destani Wolf and Norman Pitters. SoVoSo forges thoughtful lyrical territory,
from love songs to anthems calling us toward our universal humanity, all
rendered in superlative musicianship through the fundamentally human
instrument -the voice. Bridges clearly places SoVoSo on the map at the
cutting edge of world-soul-beat music. Includes a slamming re-mix of David
Worm's hit, "Say".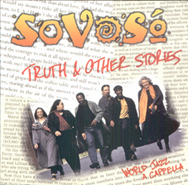 Truth And Other Stories (1998)
Be of Love
Gift of Music
Thank You For The Dream
Afro Blue
Life & Love
For the Forest
In My Prime
With You
Clear Winter Skies
What happens when you get six lead singers to perform in one group? You get SoVoSó. Each of the individual musical personalities take their turns expressing themselves with the total support of the other singers. Unheard of! Amazing! And just plain wow! "Be Of Love" is David Worm's opening tune. I would pick Joey Blake's "Thank You For The Dream" as his representative composition but notice has to be taken of the fact that he wrote and arranged "Life and Love" which Sunshine Becker has made her own. Melanie Rath's pure soprano swoops, dives and scats through Mongo Santamaria's "Afro Blue." Rhiannon presents her autobiographical, "In My Prime." And finally, Nicholas Bearde leaves us with a soulful, "Clear Winter Skies." In the vernacular, it don't get any better than this!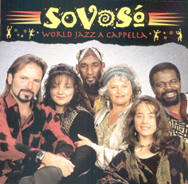 World Jazz A Cappella (1997)
First Words
Say
Show Them Dance
Thank You
People Get Ready
Tu Para Mi
Dirt
That Day
Wa Wa Wa
Home
Fop
U
Down By The Riverside
Say A Prayer
1997 Harmony Sweepstakes Winners, SoVoSó also won the CARA that same year in the category Studio Album Of The Year. The majority of the six members had been singing together for ten years or so, since being members in Bobby McFerrin's Voicestra. In fact "Dirt" the six movement, twenty plus minute marvel of improvisation was written by McFerrin and SoVoSó as a dance score for the Oberlin Dance Co. of San Francisco. This reviewer particularly loves Melanie Rath's "Show Them Dance," David Worm's "Say", Joey Blake's "Tu Para Mi" and Rhiannon's "Say A Prayer." Oh heck, all of them!